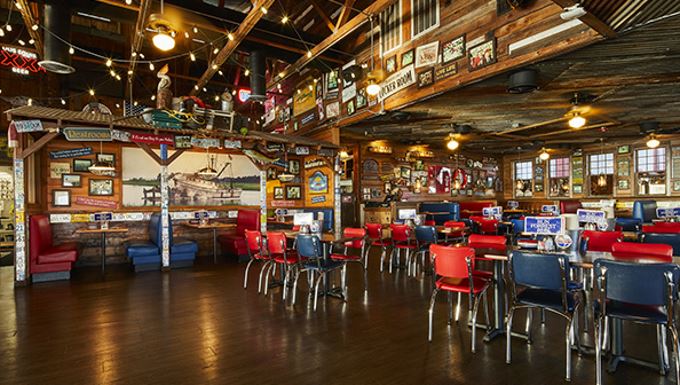 Great Food. Great Fun. Great Party!
Bubba Gump Shrimp Co.
After the success of the movie Forrest Gump Paramount Pictures approached Rusty Pelican Restaurants Inc. with their desire to open a casual family restaurant with a theme based on Forrest Gump's life, philosophy and love of shrimp.  In 1996, Bubba Gump Shrimp Co. opened its first restaurant on Cannery Row in Monterey, Calif., setting the fun and casual tone for Bubba Gump Shrimp Co. The restaurant was an instant success and things took off from there. 
Bubba Gump Shrimp Co. captures the charm and American spirit that made Forrest Gump a smash hit, featuring down-home décor reminiscent of the movie's setting in Alabama. Branded as an American icon, with locations all over the world, the restaurant showcases memorabilia and still-photos from the movie, along with reproductions of script pages, storyboards and even some costumes. Food is the hero at Bubba Gump and we are committed to providing a casual environment where everyone can enjoy a great meal and have some fun.
Currently, we have internationally franchised Bubba Gump restaurants in the following locations:
Bali, Indonesia
Beijing, China
Cancun, Mexico – Hotel Zone
Cancun, Mexico – Terminal 3, Cancun Airport
Cancun, Mexico – Terminal 2, Cancun Airport (Retail Only)
Doha, Qatar
Edmonton, Canada
Hong Kong, Hong Kong Special Administrative Region of the People's Republic of China
Osaka, Japan
Puerto Vallarta, Mexico – International Terminal, Puerto Vallarta Airport
Tokyo, Japan
Toyosu, Japan
Franchise Criteria
- Minimum of 5 years restaurant/hospitality experience in the market you wish to develop
- Have the necessary infrastructure to support the concept and its development
- Possess local market expertise in areas including trading demographics, codes and regulations and product acquisition
- Culturally aligned with Landry's Inc.
Your potential market must contain demographics to support the concept. For the Rainforest Cafe®, T-REX™ and Bubba Gump Shrimp Co. concepts, this would include high numbers of tourists and families with children.