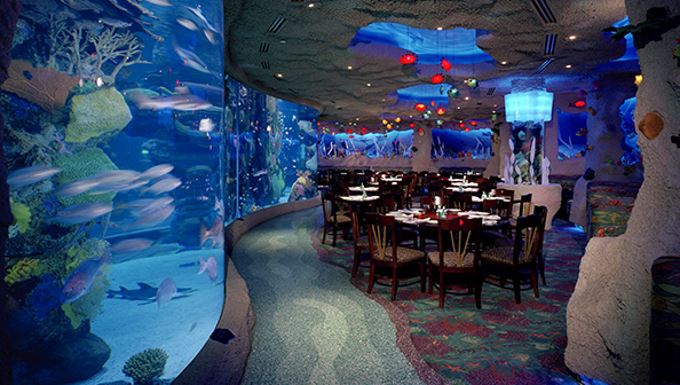 Dive into a dining adventure!
Aquarium Restaurant
Opening its first location in 1997 in Kemah Texas, The Aquarium offers engaging service, broad menu options and a casual atmosphere. The interiors of each restaurant have an underwater setting and 
themed with coral, hanging fish lights, hues of blues/greens, waves, and floor-to-ceiling aquarium tanks containing hundreds of marine life from all around the world. 
Guests can dine amongst the many tropical fish in their huge aquarium tanks / underwater setting and then explore the exhibits to see all marine life and animals. Exhibits have sound effects that tie in with the specific exhibit area. Both properties have different animals than the next. Sumatran Tigers – Denver, White Tigers – Houston for example. Houston/Denver, guests can also enjoy outdoor amusement rides and weekend events. Houston has midway games. Kemah – Big sell is it's located at the Boardwalk on the Clear Creek Channel/Galveston Bay. Spend a day at the Boardwalk and dine at the Aquarium, then visit the Stingray Reef to touch and feel stingrays. In Nashville, Unique restaurant dining in an underwater setting featuring our ever popular mermaid show.
Franchise Criteria
- Minimum of 5 years restaurant/hospitality experience in the market you wish to develop
- Have the necessary infrastructure to support the concept and its development
- Possess local market expertise in areas including trading demographics, codes and regulations and product acquisition
- Culturally aligned with Landry's Inc.
Your potential market must contain demographics to support the concept. For the Rainforest Cafe®, T-REX™ and Bubba Gump Shrimp Co. concepts, this would include high numbers of tourists and families with children.