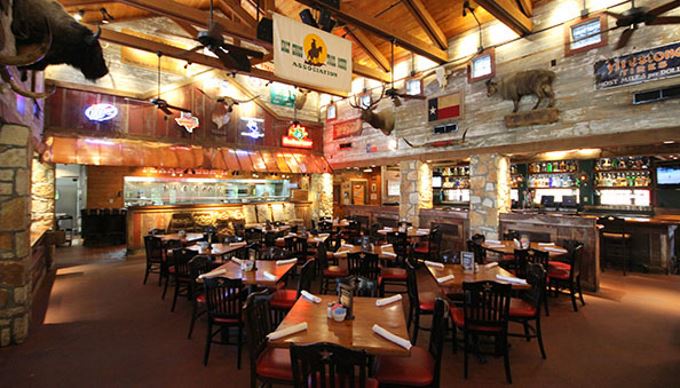 Texas To The Bone!
Saltgrass Steak House
One of Landry's fasting growing brands, the Campfire-style fare of Saltgrass Steak House is no longer limited to the enjoyment of hungry diners in the Lone Star State. The original Texas steak house now brings great cuts of chargrilled beef and legendary down-home hospitality to Texas, Oklahoma, Colorado, Florida, Louisiana, Nevada, Arkansas, Alabama, Mississippi and more totaling over 90 locations. The menu captures the flavor of the open campfire, featuring Certified Angus Beef steaks that sizzle alone, or with a choice of toppings. 
Our story dates back to the 1800s, when millions of Longhorns roamed freely throughout Texas. With the taste for beef becoming a newfound favorite in the North, Texas ranchers prospered as never before. Each winter the Longhorn were driven to the Texas Gulf Coast to graze on the rich coastal salt grass. And when they headed for market, they followed the legendary Salt Grass Trail, known far and wide for creating the best beef in the Lone Star State. In 1952, this historic trail ride was revived by four riders to publicize the opening of the Houston Livestock Show & Rodeo. Today, the ride has become an annual celebration of the original Texas spirit. The first Saltgrass Steak House still stands along this historic trail.
Franchise Criteria
- Minimum of 5 years restaurant/hospitality experience in the market you wish to develop
- Have the necessary infrastructure to support the concept and its development
- Possess local market expertise in areas including trading demographics, codes and regulations and product acquisition
- Culturally aligned with Landry's Inc.
Your potential market must contain demographics to support the concept. For the Rainforest Cafe®, T-REX™ and Bubba Gump Shrimp Co. concepts, this would include high numbers of tourists and families with children.