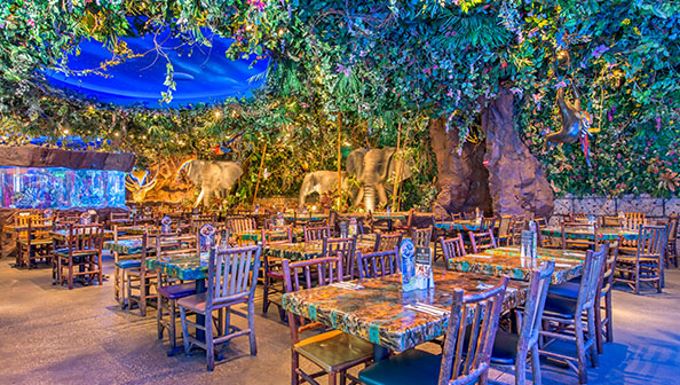 A Wild Place To Shop And Eat
Rainforest Cafe
Rainforest Café is a wild place to shop and eat. From pasta to seafood, burgers and delectable desserts, it's not just another meal when you're at the Rainforest Cafe — it's an adventure!  With locations in some of the most traveled parts of the world, Rainforest Café is designed to transport you deep into a tropical rainforest, including plant growth, mist, waterfalls, and life-like figures of rainforest animals, including elephants, gorillas, tigers, leopards, snakes, crocodiles, frogs, iguanas, butterflies, and even tropical birds - as well as thunderstorms, volcanic eruptions and more! You can even learn about conservation efforts or take a piece of the forest home with you from our retail village.
Currently we have internationally franchised Rainforest Cafe restaurants in the following locations:
Tokyo, Japan
Niagara Falls, Canada
Niagara Falls, New York
Paris, France
Abu Dhabi, United Arab Emirates
Dubai, United Arab Emirate
St. Julian's, Malta (Now Open)
Franchise Criteria
- Minimum of 5 years restaurant/hospitality experience in the market you wish to develop
- Have the necessary infrastructure to support the concept and its development
- Possess local market expertise in areas including trading demographics, codes and regulations and product acquisition
- Culturally aligned with Landry's Inc.
Your potential market must contain demographics to support the concept. For the Rainforest Cafe®, T-REX™ and Bubba Gump Shrimp Co. concepts, this would include high numbers of tourists and families with children.