Hospitality Blog
Above and Beyond
Get to know our talented team members in our Colleague Spotlight.
Get to know Danielle Stovall
Villas Coordinator at The San Luis Resort
Danielle has worked for The San Luis Resort in Galveston, Texas for nearly five years. Danielle is hardworking, passionate and does an outstanding job coordinating all of the needs and desires of our Villas' guests. From personalized check-in, private tours, reserved poolside dining and more, her customized service adds such a unique experience; it makes memorable moments guests never forget.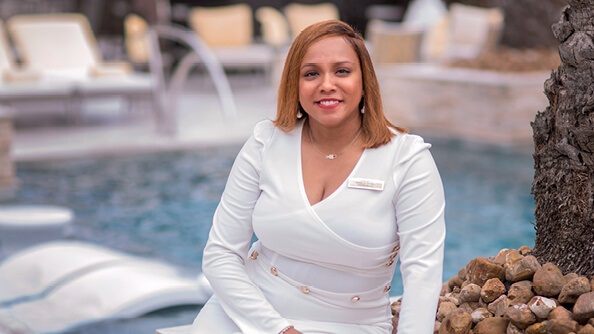 What gets you excited about coming to work each day?
I get excited about meeting new people.
What makes your role special and unique?
As the Villas Coordinator, I am involved in every aspect of their stay. I am their concierge, butler, server, room attendant and more. While my role is different every day, the goal is always the same, to give our guests a non-traditional hotel stay.
What qualities do you think you possess that enables you to perform this job?
I am a perfectionist so a lot of thought goes into every request. My work comes directly from the heart. I love people, and I love to see people smile.
What advice would you give someone who might want to do what you do?
You must have patience. You must also be a good listener and truly listen to your guests. It is important to make them feel welcome and want to come back. You have only one chance to get it right!
What is the one thing you want the public to know about your job?
My job is not easy but I love it! Every day I think about how to go the extra mile to make someone's stay special. I think of The Villas as my home. I want guests to be comfortable, safe, and most of all welcome.
What is the most rewarding experience you have had in this position?
When guests call personally requesting me to assist them or following up after a recent stay, just to say thank you. It is that recognition that is the most rewarding of all. It makes you feel like you are doing something right.