Hospitality blog
Events Now
Keeping Face-to-Face Meetings in a Post Pandemic World
Prior to the COVID-19 pandemic hybrid meetings and events existed, but they took a back seat to customary in-person meetings. Through the course of this pandemic, meeting planners were forced from their comfort zones to experiment with in-person and virtual audiences simultaneously. How does a meeting planner execute successfully while maintaining the value and engagement required for a productive event? Hear firsthand how one meeting planner creatively transformed her programs in our Meeting Planner Spotlight with Alli Scritchfield-Howie, Director of Meetings & Events at Sonic Automotive.
Dancie Ware of Dancie Perugini Ware Public Relations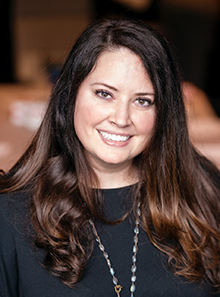 Q: Due to the COVID-19 pandemic, aside from the necessary safety and social distancing protocols, what other aspects of your event planning and execution were most impacted to produce your Annual Kick Off meeting for Sonic Automotive at The Post Oak Hotel at Uptown Houston?
A: Of course, when we sent out the "Save the Date," we were really hoping to have the meeting live and in person. Everyone was thankful that we were moving forward with the meeting and excited to celebrate our accomplishments of 2020. When we sent a follow-up notification to advise our group, "well actually, we're going to switch to a virtual meeting," there was some genuine disappointment from our attendees. I knew then to meet all the conference objectives, and more importantly find a way to keep our group involved and engaged, we would really have to go beyond being creative and use technology. The agenda had to be changed based on the fact the majority of our attendees were going to be remote and our success totally depended on their active engagement throughout the meeting.
Q: Thirty days prior to your conference date, you had to pivot and modify your program from 300 in-person attendees to 50 attendees on site and 250 attendees remote. What were some of your greatest challenges in creating this hybrid event in such a short window of time?
A: One of the biggest challenges was making our executives realize this was not the same kind of meeting we have produced in the past. Our presenting executives were accustomed to feeding off the energy from the crowd and their active participation. This year would be completely different. We had to find a way to capture that same energy, so we enlisted the help of a broadcast company to create a virtual event that offered a two-way exchange that would allow our attendees to remain highly engaged. There were many moving parts, some of which we had never done before, and we had a very short amount of time to pull this off. We had to do it. There was no other option.
Q: Associate engagement is always important for any meeting. How did you ensure all your attendees remained actively engaged and all of your conference objectives were met?
A: One thing we did to build excitement was to send a special welcome box via mail in place of their traditional welcome packet. The welcome box included blue light glasses since they were going to be on their computers for three days, a nice notebook with a pen, a magnifying ruler, and a wonderful bottle of champagne. A letter from our President and CEO was included along with their login information for the virtual conference.
Additionally, throughout the meeting, we planned virtual events to foster fun and comradery. We gave them options to choose between a Whisky Tasting, Charcuterie Board Making Class and even a Yoga class. Once an attendee chose their class, they were then mailed a special activity box to their home that provided them with everything they needed to enjoy the virtual class. Historically, at the end of the annual meeting we have always been big on thanking our spouses and significant others. The hours are so long being in the car business, and we recognize the importance of having support on the home front. This go round, since they weren't able to enjoy the amenities at the hotel first-hand, we sent the spouses and significant others robes from The Post Oak Hotel, a box of delicious macaroons made by the amazing culinary team at The Post Oak Hotel, and a hand written, personalized note from our CEO. We've received rave reviews and great responses from the spouses and significant others which is critical to our overall success.
Q: How did technology play a significant role in planning this meeting and what do you expect 2021 to hold in terms of technology for future meetings?
A: Technology plays a vital role in producing meetings and I've been pleasantly surprised at the phenomenal options that are available nowadays. Even today, we are hosting another event at The Post Oak Hotel similar to what we did for our annual meeting. Instead of traveling to six different regions, the production crew is all downstairs in one location producing the event. I feel like there is still nothing that can replace the face-to-face meetings, but this is certainly a solution until we are able to meet again in person. At the end of the day, people love to get together and share ideas and you just can't always get that virtually.
Q: From a food and beverage planning perspective, how were your menu selections and food & beverage programming affected by the pandemic?
A: Obviously going from 350 people to 50 people, we had less functions but we still offered breakfast and lunch for those on site. Normally, we would have planned nightly functions with an open bar and upscale, sit down dinners. However, we leaned on the hotel's food and beverage team to get super-creative and to "wow" our guests because that is what The Post Oak Hotel team is the best at doing. It is like, "why would you go anywhere else?" If we were going to spend it, we would spend it here to make that lasting impression for our on-site team.
Q: What key challenges do you foresee meeting planner professionals will face in 2021 and beyond?
A: I think this year is still a hybrid year. It is challenging for our executives because they might think, "we could just continue to do a virtual meeting every year." I have spoken with other meeting planners and they have said, "we have saved so much money, let's just keep doing it virtually." We are fortunate our company does not feel this way. They see the importance and value of getting our teams together face-to-face to celebrate and collaborate.
Q: Will virtual/hybrid meetings replace face-to-face meetings or is there room for both virtual and face-to-face meetings?
A: I really hope and feel that there would be room for both moving forward. I can see where it could be an 'every other year' option or some kind of virtual component that we produce throughout the year. Right now, since everyone has been apart and quarantined, people are anxious and ready to get out and be around other people, share ideas, and genuinely engage with each other in person.
Q: In your opinion, what are the biggest, new trends for the meetings industry in 2021?
A: I think virtual events were really well received and provided a really fun aspect to our meeting. If we were in person, we would have hosted a huge party and all the spouses would have participated. That was a really big hole we knew we needed to fill. In previous years, our associates had their wives, husbands, or significant others attend with them. We had Zoom calls so they could all talk to each other and have some fun interaction. Maybe not on as big of a scale, but I think the virtual events did help bring that in-person feeling a little bit more together and show how important we feel the spouses are in our overall success as a company.
Q: Why did you choose The Post Oak Hotel for this high-profile annual meeting?
A: We love The Post Oak Hotel! It is our favorite hotel by far nationwide. Everyone loves it, from our President to our CEO, to our staff. The hotel staff is phenomenal and the food is amazing. Everyone is so genuinely friendly and ready to help. They remember things from times past, whether it's a food allergy or special preferences - such as our President likes to have three eggs and English muffins for breakfast every morning...just the smallest details and they are on top of it all! It's so comforting to have that kind of partnership with a hotel and to know that they are going to take care of it. If I'm not right there in the moment, I always felt comfortable and confident that they were there and totally committed to the success of our event.
Dancie Ware of Dancie Perugini Ware Public Relations